With the weather getting warmer, it's the perfect time to get outside and enjoy some of the best outdoor activities the United States has to offer. From hiking and camping to kayaking and fishing, there's something for everyone to enjoy. So get out there and explore! The United States is a big country with lots of lands to explore.
There are a lot of outdoor activities to do here, but not all of them are easy to access. I'll share some of my favorite outdoor activities accessible to anyone, even those who live in cities. I've included my favorites for camping, hiking, road trips, and adventure sports. As humans, we have evolved to enjoy the benefits of being active. We are biologically designed to feel alive when we contact nature.
So why are so many people who live in urban environments missing out on the benefits of outdoor activities? If you spend a lot of time inside, you are probably not getting enough physical activity, and you may not be getting the full spectrum of what being human is all about.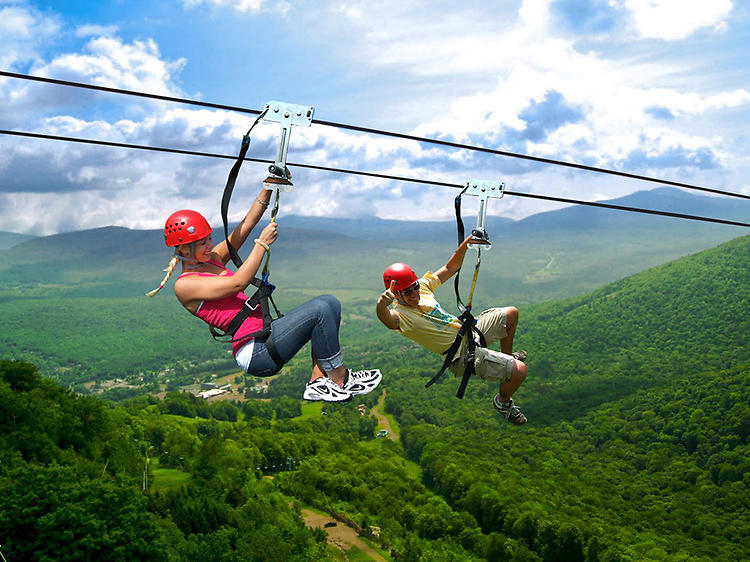 Outdoor Adventure Road Trips: The Best Way to See the USA
I'm a massive fan of road trips, so I researched the best road trips to see the United States. I've included the best places to go, the best time of year, and the best activities you can do. Some of these trips are multi-day, others are weekend excursions, and others are a few days longer.
While I've focused on the East Coast, West Coast road trippers can use the same information. I've also included a few suggestions for road trips across Canada, Mexico, and the Caribbean. Regardless of the length, they're all great options for a quick getaway from city life.
The Best Outdoor Activities in the West
We're not talking about a trip to Disneyland here. Instead, we're talking about places where you can go camping, hiking, on road trips, and other adventurous activities. While this list isn't exhaustive, I've picked the best activities easily accessible to people from the west. I've tried to choose activities that aren't too difficult or expensive.
The Best Outdoor Activities in the Midwest
We're in the middle of a golden age of outdoor recreation, so if you're looking for an activity that can be done in the great outdoors, look no further. The Midwest is home to many beautiful parks and forests, lakes, rivers, mountains, and trails. In this region, you can find a wide variety of activities. Here are the best ones.
Camping
Camping is a great way to experience nature and enjoy the outdoors. You'll meet new people and build memories. You can camp almost anywhere in the United States, but the Midwest has some of the most popular camping destinations.
For example, in Michigan, you'll find beautiful Mackinac Island State Park and Cedar Point State Park sites. If you're looking for a more rustic experience, you can head to the shores of Lake Superior in Northern Michigan, where you can enjoy a night under the stars.
Road trips are a fun and relaxing way to see new places. They can also be an excellent opportunity to learn about different cultures and explore new experiences. While road trips are possible across the entire United States, the Midwest is home to a few of the most popular ones. Take a road trip to Chicago and visit the beaches along Lake Michigan, hike the trails of Michigan's Sleeping Bear Dunes National Lakeshore, and visit the historic town of Dubuque, Iowa.
The Best Outdoor Activities in the South
has plenty of options. I'll share a few of my favorites, from beautiful national parks to relaxing campgrounds.
#1: Gulf Coast National Seashore
The Gulf Coast National Seashore has some options for camping, including a full range of campsites. My favorite spots include the historic Fort Pickens and the Alabama River Campground.
#2: New River Gorge
The New River Gorge is a fantastic place to go hiking, and I've spent many weekends there. It's close to Gatlinburg and Pigeon Forge, which makes it an excellent place for a road trip.
#3: Ocracoke
Ocracoke is a small island just off the coast of North Carolina. It's got plenty of exciting history and tons of opportunities for adventure sports.
#4: Great Smoky Mountains
This is one of the most popular national parks in the U.S., and I'm not surprised. The views from the Appalachian Trail are spectacular, and the trails are top-rated.
#5: Grand Canyon
The Grand Canyon is one of the seven natural wonders of the world. It's a must-see, and there are many options for visiting.
The Best Outdoor Activities in the Northeast
The Northeast is home to some of the most beautiful landscapes and wildlife. It's a region encompassing everything from the Appalachian Mountains to the Atlantic Ocean.
Here are my top picks for outdoor activities in the Northeast:
Camping
Hiking
Paddling
Climbing
Adventure sports
Frequently Asked Questions Outdoor Activities
Q: What are some fun outdoor activities you recommend for children?
A: My favorite outdoor activities include kayaking, playing with dogs, hiking, swimming, biking, and going on picnics.
Q: Which state is best for outdoor activities?
A: I like California. There are so many mountains there, and it's straightforward to go hiking. I am a big fan of outdoor activities, especially during the summer. I enjoy going outside and playing soccer, basketball, and volleyball if I'm not working. I also love to play golf and tennis.
Q: Who is your favorite person who does outdoor activities?
A: My husband, Steve. He's so active and has a big heart. He enjoys sports, and he likes to go hiking.
Top 5 Myths About Outdoor Activities
1. Children with autism are not capable of playing outside safely.
2. Playing outdoors causes allergies, asthma, and other respiratory illnesses.
3. Children with autism should be allowed to play outdoors only under supervision.
4. Children who have Asperger Syndrome can learn to play outside safely.
5. Outdoor activities are a waste of time for children with autism.
Conclusion
You don't need to travel the world to experience some of these outdoor activities. Just check out some of the best outdoor activities in the US to get inspired and plan your next adventure.